Welcome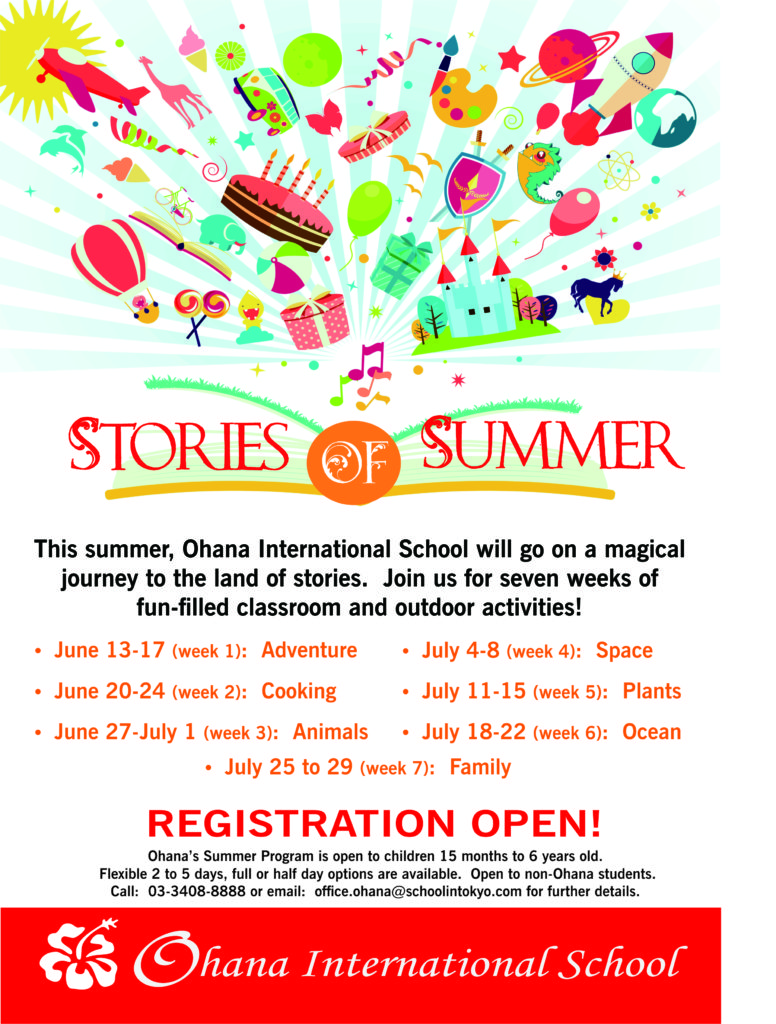 Registration now open for our 2016 Summer Program!
Ohana International School is an English language pre-school for children aged 15 months to 5 years old in Moto-Azabu.  Our program is play-based and designed through careful study of Early Childhood educational practices, through engaging indoor and outdoor activities.
This summer join us as we go on a magical journey to the land of stories on our "Stories of Summer" program.  We will explore seven different stories through role-playing, arts craft, music, reading and outdoor activities.   Our summer program runs from June 13 to July 29 and will follow Ohana's regular day program with exciting weekly themes.
June 13 – 17 (Week 1):  Adventure – "We're going on a Bear Hunt"
June 20 – 24 (Week 2):  Cooking – "Wombat Stew"
June 27 – July 1 (Week 3):  Animals – "Three Little Pigs"
July 4 – 8 (Week 4):  Space – "Tanabata", japanese story
July 11 – 15 (Week 5):  Plants – "Jack and the Beanstalk"
July 18 – 22 (Week 6): Ocean – "Rainbow Fish"
July 25 to 29 (Week 7): Family – "Are you My Mother"
Register now!  Price per day is Y10,000 for full day ( till 2:00pm) and Y8,500 for half-day program (till 12:30pm).  Minimum of 2 days per week is required.  Option of after-school care (till 5:30pm) and catered lunch is available.  A registration fee of Y20,000 will apply to non-Ohana students, which will be credited towards the regular registration fee, if you continue with us the following term.  Call us at 03-3408-8888 or email us at office.ohana@schoolintokyo.com for further details.